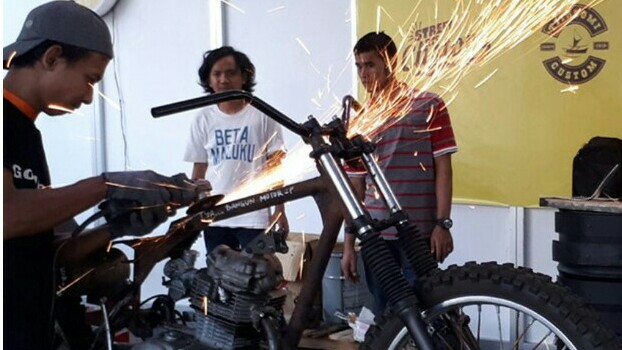 mobilinanews (Jakarta) – Berkembangnya dunia motor kustom di Indonesia membuat pameran otomotif saat ini diramaikan oleh kehadiran sepeda motor buatan sendiri tersebut.
Innovative and Creative Society (INCREASE) yang mengumpulkan para builder andal di Indonesia akan memeriahkan gelaran Indonesia International Motor Show (IIMS) 2018 dengan beragam motor kustom keren.
Menariknya, momen IIMS 2018 dijadikan start atau awal perjalanan INCREASE dalam program bertajuk Indonesia Rides The World.
Program tersebut punya misi untuk memamerkan hasil karya builder Indonesia pada tiga pameran otomotif dunia yakni di Jerman, Belanda dan Italia.
"Program terdekat kami adalah Indonesia Rides The World yang akan berkunjung ke tiga motor show dunia yakni di Jerman, Belanda dan Italia untuk memperkenalkan hasil karya builder Indonesia," ujar Djoko Iman Santoso, Founder INCREASE kepada indonesianmotorshow.com.
"Dan IIMS 2018 menjadi start," tegasnya bersemangat.
Iman menambahkan, nantinya di IIMS 2018 akan ada 12 motor hasil karya builder Indonesia yang dipamerkan. Kegiatan selama di IIMS 2018 akan diinformasikan di tiga motor show Eropa tersebut.
Diharapkan dengan informasi ini builder internasional dari luar negeri mau meramaikan IIMS tahun mendatang. Sehingga pasar motor kustom Indonesia semakin berkembang dengan kehadiran para builder dari mancanegara.
Penasaran motor kustom apa saja yang akan dipamerkan dalam booth INCREASE di IIMS 2018 nanti?
Nantikan di JIExpo, Kemayoran, Jakarta pada tanggal 19-29 April 2018. (iims.com, budsan)