mobilinanews (Palembang) - Briefing kepada peserta Muba Asia Auto Gymkhana Cup (MAAGC) 2019 dilangsungkan di Hotel Grand Zuri, Palembang, Sumatera Selatan, Jumat (29/11/2019) malam.
Briefing diikuti 28 peslalom yang datang dari Taiwan, Hongkong, India, Vietnam, Thailand, Kamboja, Malaysia, Singapura, Brunei Darussalam serta 6 peslalom Indonesia (dari tim Indonesia 1, 2 dan 3).
Vito Siagian didampingi para steward
Dipimpin langsung oleh Vito Siagian selaku Clerk of The Course (COC) didampingi 3 orang steward masing-masing Poedio Oetojo (Chief Steward), Gerry Rosanto (Steward) serta Kagjeet Singh steward dari Malaysia.
Vito menerangkan terkait race program yang akan mulai dilangsungkan pada hari Sabtu esok yang menggelar 1 race kelas Solo (perorangan) dan dilanjutkan race day pada hari Minggu lusa dengan kelas Team dan Double.
Peserta MAAGC menyimak briefing
"Kami juga sampaikan, di Muba Asia Auto Gymkhana Cup kali ini, menggunakan mobil Toyota Agya 1200 matic untuk seluruh peserta. Sedangkan kelas yang diperlombakan Solo, Team dan Double," ujar Vito.
Sebelumnya, pada sore harinya, dilangsungkan briefing racing committee (RC) yang dipimpin oleh Tony Yanuar selaku Deputy COC serangkap Chief Marshall.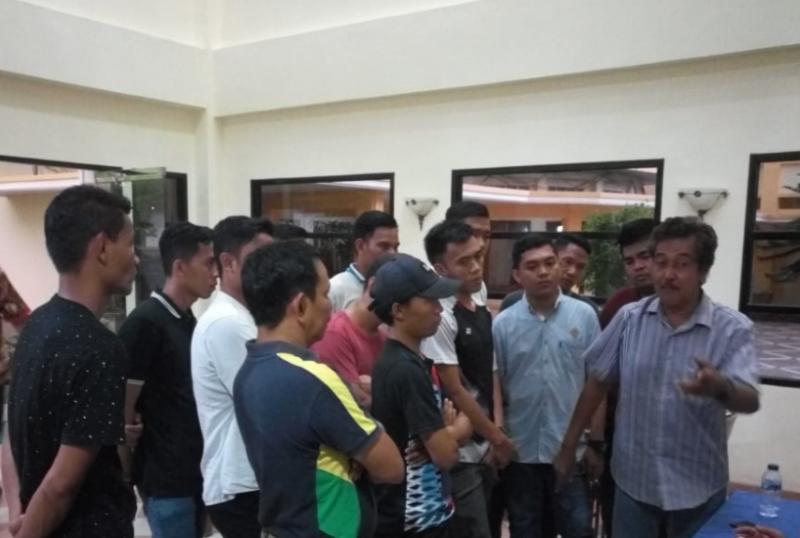 Tony Yanuar memberi briefing petugas marshall
Selain diikuti 10 negara Asia, MAAGC juga akan melombakan kelas lokal Muba, lokal Sumsel serta kelas Executive yang perlombaannya akan dihelat pada hari Minggu, 1 Desember 2019. (bs)