mobilinanews (Jakarta) - Rinaldo SA dari Banteng Motorsport berhasil menjadi yang tercepat untuk memenangi kelas Break The Limit pada putaran pembuka Brio Saturday Night Challenge (BSNC) di Aquatic Center GBK Senayan, Jakarta, Sabtu (22/6/2019) malam.
Keberhasilan peslalom asal Bogor dan juara nasional kelas B ini, sekaligus meruntuhkan obsesi beberapa peslalom veteran seperti Gerry Rosanto (Surabaya) dan Fredi Rostiawan (Bandung) yang turun di event ini.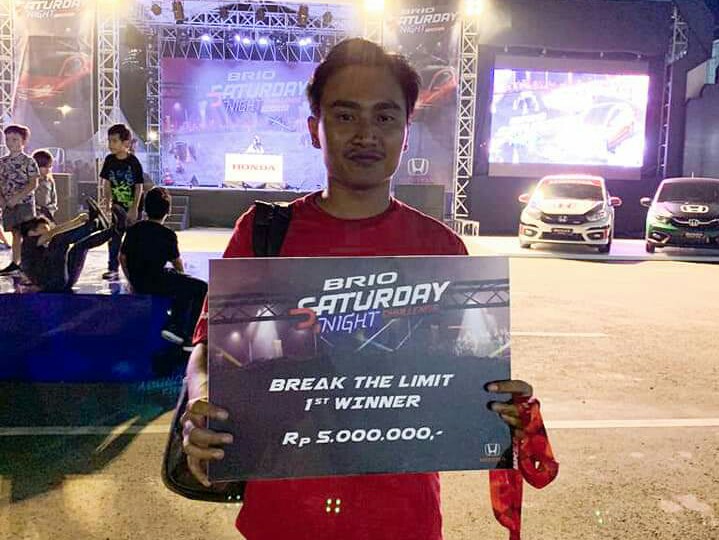 Rinaldo tumbangkan senior
"Seru acaranya, om. Dan, hadirnya beberapa senior membuat saya lebih bersemangat," ujar Rinaldo yang atas keberhasilannya "diganjar hadiah" uang Rp 5 juta dari PT. Honda Prospect Motor selaku sponsor utamanya.
Tak mudah sebetulnya bagi Rinaldo. Pasalnya, tidak hanya dua nama gaek di atas, tapi juga ada Reindy Riupassa (Bandung) dan Avan Abdullah pembalap mobil yang juga mencoba peruntungan di BSNC.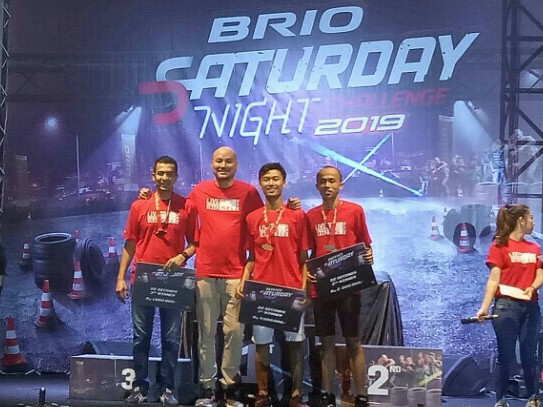 Avan Abdullah (paling kanan), dari balap mobil ke slalom
Selain kelas puncak Break The Limit, juga digelar kelas bracket untuk 22 detik, 24 detik dan 26 detik. Juga kategori special yakni Konsistensi, Babe Driver, Accuracy serta Stylish Finish.
Di kategori ini secara berturut-turut dimenangkan Avan Abdullah, Canya Prasetyo, Anis Badrouf serta Rizky TJ.
Perlombaan menggunakan sistem 2 Heat, dan Heat terbaik yang dipakai untuk menentukan pemenang.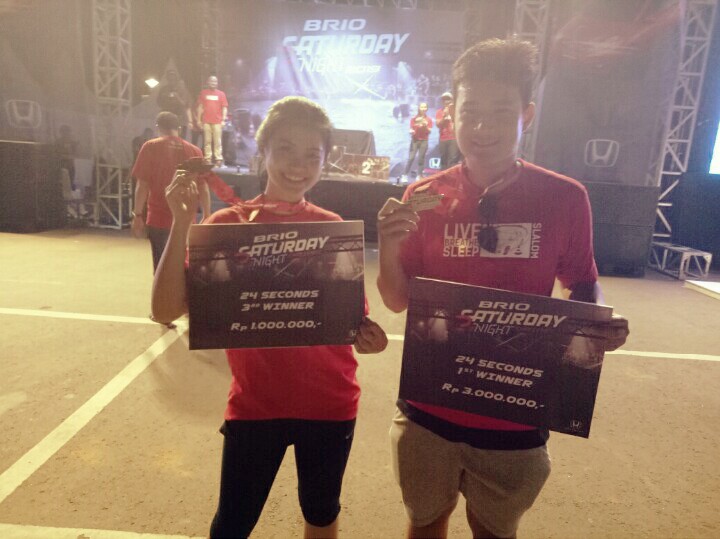 Canya Prasetyo 2 kali naik podium & Ferril Sucahyono
"Jadi, peserta Brio Saturday Night Challenge kali ini memakai All New Honda Brio. Dan, satu mobil boleh dipakai untuk lebih dari satu peserta. Sedangkan kalau malam ini banyak yang datang, dari komunitas atau klub Honda," ujar Adhi Parama Sugarda dari HPM.
Ditambahkan Rama --sapaan akrabnya-- bahwa BSNC tahun ini direncanakan dilangsungkan 4 putaran. Setelah Jakarta, akan dilanjutkan di Bandung, Surabaya dan kembali ke Jakarta. (bs)
Hasil Lomba BSNC GBK Senayan :