mobilinanews (BSD City) – Setelah mempertahankan kemenangannya di 5 dari 7 seri yang telah digelar, Fitra Eri dari tim Honda Bandung Center berhasil merebut gelar juara umum Honda Jazz Speed Challenge (HJSC) di street race BSD City GP, Tangerang, Minggu (2/12/2018).
Di kelas Master, Fitra mengoleksi total 168 poin dan tak terkejar peserta lainnya. Ia berhak menyandang gelar juara umum HJSC dengan hadiah senilai Rp 30.000.000,-.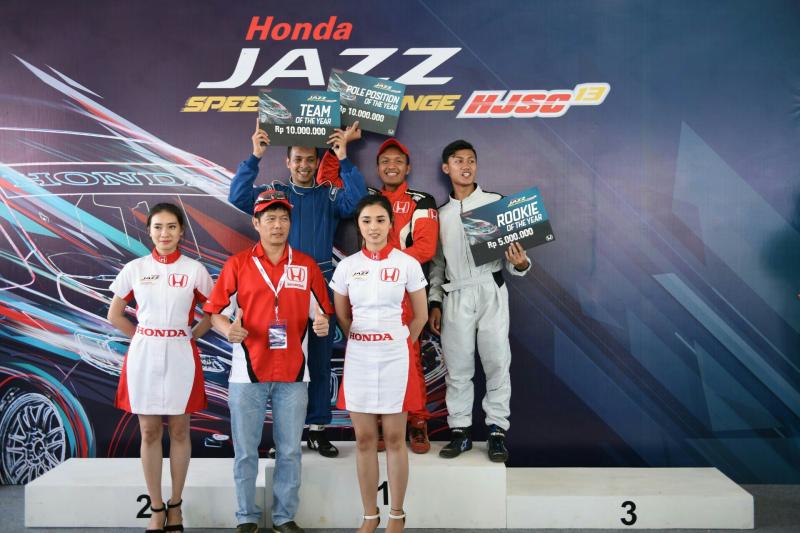 Rio SB (tengah, atas) bersama Avan Abdullah san Annis Badrouf
Sementara itu, Rio SB dari tim Honda Racing Indonesia meraih juara kedua dengan 127 poin, dan mendapat hadiah uang Rp 18.000.000,-.
Posisi ketiga, Zharfan Rahmadi dari tim Banteng Jagonya Ayam Motorsport mengumpulkan 103 poin, dengan hadiah Rp 12.000.000,-.
Selain juara klasemen, Honda juga memberikan penghargaan pembalap untuk kategori khusus dan pembalap berbakat.
Rio SB selain menjadi juara 2 di Master, juga memenangkan kategori Pole of The Year dengan meraih jumlah pole terbanyak pada babak kualifikasi. Pembalap serbabisa ini berhak hadiah Rp 10.000.000,-.
Sedang Annis Badrouf meraih Rookie of The Year dengan hadiah Rp 5.000.000,- Serta untuk kategori Team of The Year disandang Bank BJB Delta Garage Racing Team dengan hadiah Rp 15.000.000,-.
Wuih, panen hadiah nih. (bs)